Sanjana Jon to promote her 'kanya boon hathya' movement at Icon Awards
Sanjana Jon will promote her stance on PM Narendra Modi's "Beti Badhao, Beti Padao" initiative at the Stardust Icon Awards on July 13. Her aim is to eradicate the dowry system in India, save and celebrate the girl child. She wants young men to take a pledge not to take dowry, while young women pledge not to accept men who ask for the same. Meera Gandhi, the CEO and founder of the Giving Back Foundation, is supporting Jon in her efforts to promote women empowerment, along with Swami Chinanand Saraswati Ji and Sadhvi Bhagwati Saraswati. Bhagwati Saraswati emphasizes the importance of recognizing the incredible gifts and Shakti that every woman possesses.
NEW YORK, NY (TIP): Consul General of India, Ambassador Dnyaneshwar M. Mulay announced, August 21, the Sanjana Jon Tour to India with Olivia Culpo, the current Miss Universe from the 27th of September to the 6th of October. Mr. Mulay emphasized on the importance of cultural ambassadors and cultural tours to build closer ties between the two countries and globally The tour will be to the capital New Delhi, Mumbai, Agra and several key cities in India to promote and propagate "Celebrate the Girl Child", Women Empowerment and AIDS Awareness.
Actress Manisha Koirala joined and supported the initiative.The focus would be to eradicate female feticide especially in states like Punjab, Haryana, Rajasthan where the incidence is very high.
The awareness tour initiated by Sanjana Jon in 2004 with the then Miss Universe Jennifer Hawkins has grown monumentally as an amazing positive movement and currently is the 6th Sanjana Jon Tour to India with Miss Universe for charity. The Tour has been supported by Salman Khan to highlight the different causes and several other celebrities like Sohail Khan, Sajid- Wajid Khan, Suhasini-ManiRatnam, Venkatesh, Padmabhushan Padmashri Dr KJ Yesudas, Padmashri Shobana, Usha Uthup, to name a few.
Miss Universe to visit India
The Consul General of India Mr Dnyaneshwar M. Mulay hosted a send off reception on August 21, 2013 for Ms Olivia Culpo, the current Miss Universe on her visit to India. In his welcome remarks, the Consul General welcomed the Miss Universe and wished her the best for her visit to India. He also expressed the hope that her visit to India will bring new interaction between the youth and women of India and the United States of America. The Consul General also urged Miss Universe to try and interact more with young people as India is a very young country.
Miss Universe Olivia Culpo and designer Sanjana Jon collaborate on AIDS and Save the Girl Child awareness.
The Honorable Consul General of India, Shri Dnyaneshwar M. Mulay, hosted the launch of Sanjana Jon's 2013 Tour of India which will feature the reigning Miss Universe, Olivia Culpo. The tour is slated for September 27th through October 6th and will include trips to the capital, New Delhi, along with Mumbai, Agra and several other key cities in India. The tour will help promote AIDS Awareness and the Save the Girl Child campaign which strives to fight female feticide and empower women of all ages.
Sanjana Jon advocates for fashion with heart.
Sanjana Jon, the renowned fashion designer-turned-social worker stands out for her bold personality and unique attitudes. A socially motivated person since her early teens, Sanjana believes in propagating the concept fashion with heart. "Fashion trends in Kerala are definitely blooming. People are far more fashion conscious. People here like to retain the essence of Kerala while they look for innovations," says Sanjana, who is in Kochi for a fashion event. "The fashion trends that we come across in Milan or Paris may not come down soon to this part of India because we are not too influenced by the global fashion industry. But still there are traces of it coming down to places like Delhi or Mumbai, which is a sign that it will reach us not too late," she continues.
Sanjana Jon's big fight DECCAN CHRONICLE | CHRISTOPHER ISAAC
Sanjana Jon, a fashion designer and social activist, showcased a collection at the Hyderabad Fashion Week to raise awareness about female foeticide and cruelty towards animals. She believes that her eye for social issues comes from her grandfather, who taught her to be thankful for basic necessities such as food and water. Jon is particularly passionate about ending female foeticide and urges people to prevent cruelty towards animals by sterilizing and vaccinating them instead of killing them.
Star power and chaos mark Sanjana Jon's debut at WIFW
Jon's debut at the WIFW brought the who's who of Bollywood and other celebrity siblings including Salman Khan-Sohail Khan, Sushmita Sen-Rajiv Sen, Riya Sen-Raima Sen, Amaan Ali Khan-Ayaan Ali Khan, Shibani Kashyap, boxing champion Vijender Singh and his brother, music composer Sajid-Wajid.
A fashion show for the record books
esigner Sanjana Jon gets 500 models to walk the ramp Five hundred professional and aspiring models dressed in the traditional costume of their native States will walk the ramp together at the upcoming "Pride of India" show in the Capital in an attempt to set a new Guinness record. At a press conference here on Wednesday, designer Sanjana Jon said the last Guinness record was set in Bangkok last year in which 282 models walked the ramp. Since it is not humanly possible to have one choreographer for so many models, the designer will be assisted by a team. The date will be finalised by the Guinness show managers. By Madhur Tankha.
Sanjana Jon to bring Miss Universe to India
Reigning Miss Universe Stefania Fernandez will visit India for a six-city AIDS and female foeticide awareness tour in June – courtesy fashion designer Sanjana Jon. Jon's company IG International that deals in celebrity charity events has been bringing a number of former Miss Universe to India for AIDS awareness promotional campaigns.
Olivia speaks for girl child - Miss Universe wraps up Northeast visit (Sanjana Jon Tour)
Miss Universe Olivia Culpo, on a 10-day debut tour to India, has promoted and propagated issues like celebrating the girl child, eradication of female foeticide, women empowerment and AIDS awareness in various states of the country. Accompanied by social activist and fashion designer Sanjana Jon, Olivia was in Itanagar yesterday to participate in the curtain-raiser to the International Tourism Mart to be held at Tawang in Arunachal Pradesh from October 18. The Mart aims at promoting the frontier state as a tourist destination in the world.
SANJANA JON – Following Her Own Footsteps
Reigning Miss Universe Stefania Fernandez will visit India for a six-city AIDS and female foeticide awareness tour in June – courtesy fashion designer Sanjana Jon. Jon's company IG International that deals in celebrity charity events has been bringing a number of former Miss Universe to India for AIDS awareness promotional campaigns.
PCJ LaFinesse Excellence Award for Sanjana Jon
NEW DELHI: Sanjana Jon was the recipient of PCJ LaFinesse Excellence Awards 2012, at Florian, New Delhi on March 21 along with Kumkum Roy Choudhary, Krishna Poonia and Alka Lamba. Sanjana Jon started her career working with her brother Anand Jon in New York and they created a jewelry line together which was highly appreciated by Iman David Bowie Barbara Hershey supporting AMFAR.
Miss Universe meets women who worked as manual scavangers
Culpo and Jon will also participate in march here tomorrow to raise awareness about HIV/AIDS, gender equality and sex selective abortion. "It's important to start a conversation about HIV/AIDS. Our part is to make them understand that they're not alone. There are people who do care," Culpo, who has also been working in the US to raise awareness about HIV and AIDS, said.
Salman Khan supports Miss Universe, Sanjana Jon on 'Girl Child, Women Empowerment' cause
Salman Khan, who recently met up with Miss Universe 2012 Olivia Culpo and Sanjana Jon to give his support to the 'Girl Child, Women Empowerment' cause, has revealed that he would like to have a baby girl if he ever has a kid.
8 वां स्वच्छ भारत दिवस सम्मेलन और पुरस्कार
नई दिल्ली : "भारत हमको जान से प्यारा है सबसे प्यारा गुलिस्तां हमारा है" इस गुलिस्तां को हमेशा खूबसूरत और स्वच्छ रखने के लिए हाल ही में दिल्ली में 8 वें स्वच्छ भारत दिवस सम्मेलन रखा गया। जिसकी मेजबानी की इमेजइंडिया के अध्यक्ष रोबिंदर सचदेव ने।
ये शाम स्वच्छ भारत और सुंदर भारत के लिए "स्वच्छ भारत अभियान" के लक्ष्यों के योगदान पर केंद्रित रही। न्यूयॉर्क और नई दिल्ली की अंतर्राष्ट्रीय फैशन डिजाइनर और सामाजिक कार्यकर्ता डॉ संजना जॉन को "कम, क्लीन इंडिया" अभियान की वैश्विक ब्रांड एंबेसडर के रूप में नियुक्त किया गया।
इस कार्यक्रम में राष्ट्रीय और अंतरराष्ट्रीय गणमान्य व्यक्ति, डॉ उदित राज, पैट्रिक ओकाबे, डेविड यंग ली, हाजी सैयद सलमान चिस्ती, स्वामी चिदानंद सरस्वती जी, रेणु हुसैन, सुभाष राजन, पराुल महाजन, सीमा धवन, डॉ निर्मल जैन, स्वामी के साथ साध्वी जी चिदानंद सरस्वती जी, डॉ अर्चना पाटिल और कई अन्य अतिथिगण ने अपने विचारों से इस शाम को और भी महत्वपूर्ण बना दिया।
Princess Maria Amor held her prestigious WCH & G.O.D Awards in India for the first time.
Dr. Maria Amor partnered with SREI Foundation and collaborated with Sant Nirankari Mission to host G.O.D. Awards Asia in Kolkata. Celebrities from around the world attended to support the awards and fundraise for a school for disadvantaged children. The event included a fashion show by Dr. Sanjana Jon, an Indian cultural presentation by Kalamandalam, a spiritual hymn from Saint Nirankari Mission Choir, and a performance by the Royal of Cambodia, Souma Sisowath. The GOD Awards Dinner recognized the world's greatest humanitarians.
The 8th clean India day conclave and awards hosted by president of Imagindia
Robinder Sachdev, President, Imagindia hosted 8th Clean India Day Conclave & Awards at Constitution Club, Rafi Marg. The conclave focussed on the contribution of the goals of the Swachh Bharat Abhiyan for cleaner India and Beautiful India. Dr Sanjana Jon, International Fashion Designer and Social Activist of New York and New Delhi was appointed as Global Brand Ambassador of  "Come, Clean India" campaign.National and international dignitaries spotted at the event were Dr Udit Raj, Patrick Okabe, David Young Lee, Haji Syed Salman Chisty, Swami Chidanand Saraswati ji, Renu Hussian, Ms Subha Rajan, Parull Mahaajan, Seema Dhawan, Dr Nirmal Jain, Sadhviji with Swami Chidanand Saraswati Ji, Dr Archana Patil and many other guests.
Stardust Global Icon awards supporting girl child campaign
New York: Stardust is hosting the first of its kind global icon awards on July 13th at the Plaza Hotel in New York to celebrate global Indian achievers. This award show has taken up the initiative of supporting the Celebrate The Girl Child Campaign – Beti Bachao, Beti Padhao (Save girl child, educate girl child) a social campaign that aims to generate awareness and improve the efficiency of welfare services intended for girls. This initiative was launched by Prime Minister Narendra Modi on January 22nd 2015, which aims to eradicate female feticide. The Stardust initiative shall bring together global icons who shall pledge to eradicate female feticide and promote women empowerment.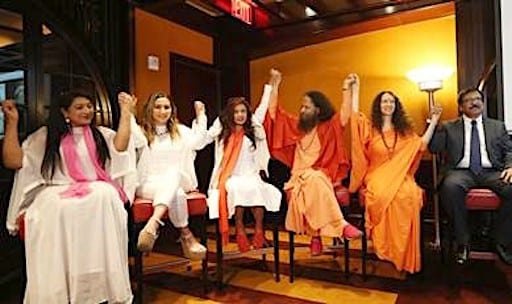 Miss Universe Olivia Culpo promotes "CELEBRATE THE GIRL CHILD" campaign
Miss Universe 2012, Olivia Culpo and Sanjana Jon, a renowned fashion designer and social activist, participated in a highly anticipated event in Gurgaon to promote the "Celebrate the Girl Child" campaign. The campaign aims to raise awareness about empowering girls to create a world where they can thrive and fulfill their potential in every aspect of life. Ms. Culpo and Ms. Jon delivered inspiring speeches highlighting the significance of investing in girls' education, healthcare, and safety. They also interacted with young girls, sharing their personal experiences and words of encouragement, inspiring them to dream big and work towards achieving their goals. Overall, the event was a massive success and brought attention to an essential cause, positioning girls as powerful agents of change who deserve to be celebrated and supported.
Olivia Culpo celebrates designer Sanjana's birthday
This evening at Citrique, Pullman Gurgaon saw the people of Gurgaon welcome Olivia Culpo, Miss Universe 2012, who is on a charity tour with designer Sanjana Jon to India to celebrate Sanjana's birthday. Jagan Lacsher, GM of Pullman Gurgaon Central Park, spoke on the occasion and said, "Pullman, as a brand, is honored to host an evening for the charming Olivia Culpo. We believe in supporting the cause of the girl child and are delighted to lend our support through her initiative."
Vandy Mehra & Dr. Sanjana Jon showcased the "ROMANCE" Valentines Collection at a fashionable event.
Vandy Mehra and Dr Sanjana Jon hosted a fashion event to exhibit the "ROMANCE" Valentine's collection at Study By Janak, South Extension. The event was graced by socialites and ambassadors including Shashi Abraham, Meenakshi Dutt, Shivani Wazir Pasrich, Dr Janice Darbari, Sunil Sukumaran, Rohit Sethi, K.L. Ganju, Kulbhushan Parashar, and Pietro Sferra Carrini. The stunning collection, designed by Sanjana Jon, featured various fabrics, cuts, and silhouettes in shades of red and pink, and is absolutely perfect for anyone who loves glamour and fashion.